L'ARTISTE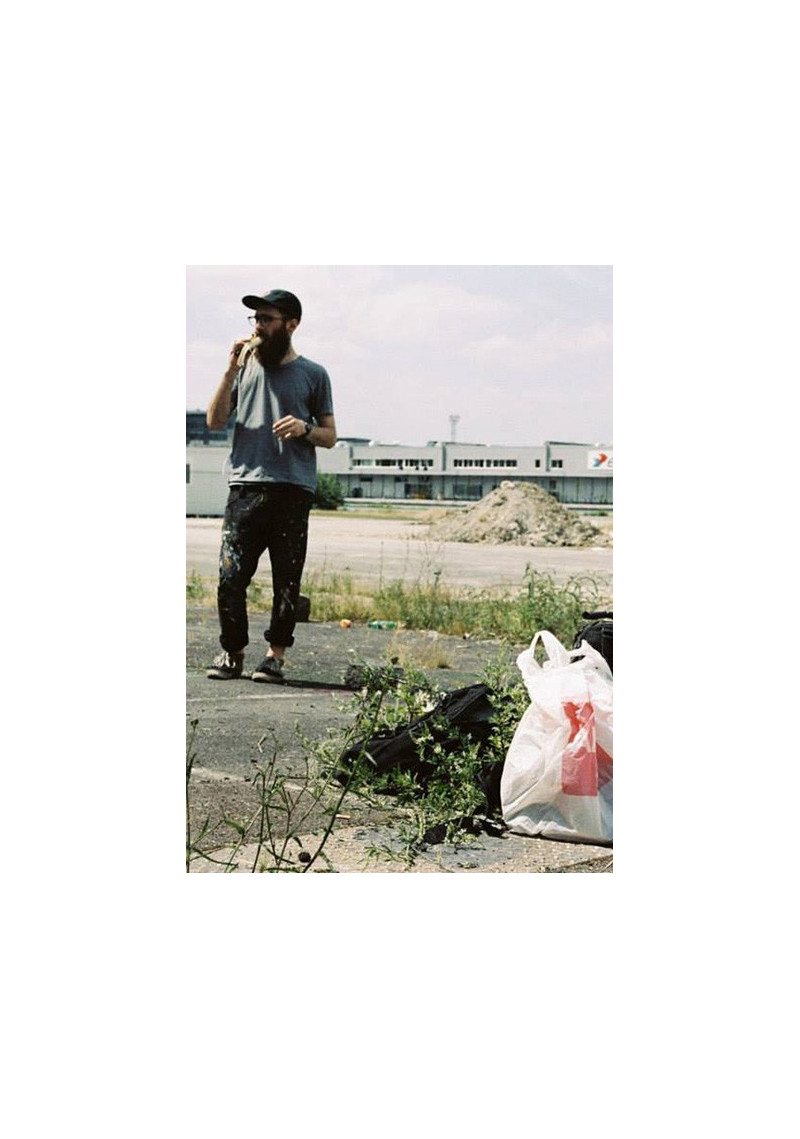 SEBASTIEN TOUACHE
Sébastien Touache est né dans la banlieue lyonnaise en 1982. C'est dès son enfance qu'il se passione pour l'image dessinée, nourri autant par la culture du dessin animé nippon (qui déboule massivement sur la France) que par les classiques de la bande dessinée franco belge (refourgués plus ou moins de force aux anniversaires et autres noëls).
Après quelques années passées en Afrique, il rejoint la métropole et s'oriente tout naturellement vers les arts appliqués. C'est d'ailleurs à l'école qu'il rencontre ses futurs collaborateurs, avec qui il fonde le collectif jeanspezial en 2006. Parallélement à son activité en galerie, il travaille en tant qu'illustrateur commercial chez les jeanclode (Nicolas Barrome et Mathieu Julien/Xvlf, représenté par l'agence Lezilus à Paris et Pocko à Londres).
Son activité s'articule donc entre pratique commerciale (publicité, édition) et personnelle (en galerie et en terrain avec ses compéres de jeanspezial). Il affectionne autant «l'image débile qui fait rire les copains» que les univers psychédélique et l'imagerie ésotérique.
Expositions :
Pictoplasma 10th anniversary, Berlin-Buenos Aires 2014.
Leurs Petits Papiers, galerie Sergeant Paper, Paris 2013.
Famille recomposée, galerie Openspace, Paris 2013.
Wintershow 2 Arts Factory, Paris 2012.
Pictoplasma Neurotitan, Berlin 2012.
Stroke art fair, Munich 2011.
Galerie LJ, Paris 2010.
Extrabold gallery, Luxembourg 2009.
Jeanpierre, galerie Issue, Paris 2009.
Centre Georges Pompidou, Paris 2008.
Arts Longa gallery, Paris 2008.
Centre d'art contemporain de Troyes, 2007.
Sébastien Touache is a french illustrator born in 1982.
During his childhood, he read a lot of comics, from Tintin to Asterix, and watched a lot of japanimation as well (dragon ball z, saint seiya, etc). From this time, he became interested in drawing pictures.
After few years spent in Africa, he come back to France and begin to study graphic desi gn and illustration. With the friends he met at school, they found Jeanspezial in 2006, and made a lot of exhibitions and walls across Europe (Paris, Berlin, Munich, Bruxelles, Ghent, Luxembourg...). On the other side, Sebastien is also a proud member and co-founder of les jeanclode, the commercial part of his activity, with les Jeanclode (Nicolas Barrome and Mathieu Julien. They work together mainly on advertising campaigns, and are supported by Lezilus (Paris) and Pocko (London).
About his style, Sébastien is fond of silly stuff and mainly influenced by ignorant stuff from his childhood (to make mates and young people smile).


https://www.flickr.com/photos/sebastientouache/
éditions limitées