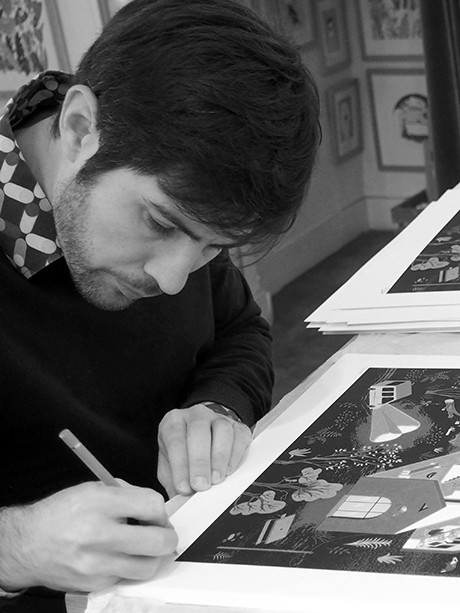 ALEXANDRE CLERISSE
After having graduated from the European School of Visual Arts (EESI) in Angouleme in 2003, Alexandre moved towards illustrated storytelling and created his first graphic novel (Jazz Club) in 2005. After the publication of his book "Trompe la mort" in 2009, Alexandre started collaborating with various magazines, collective reviews, press media and in graphic design and publishing, while simultaneously running masterclasses in France and abroad.
Collaborating with Thierry Smolderen (storyline), the pair created « Souvenirs de l'empire de l'Atome » (2013), « L'Été Diabolik » (2015), and « Une année sans Cthulhu » (2019), long-winded works for which they have received numerous awards and which have been translated in multiple languages. Together, they also created "Le secret du ruban-monde", the first content for an INTERACTIVE COLLECTIVE VIRTUAL REALITY technology (Cortex productions).
The artist has received numerous awards and distinctions and has recently worked on the set devices for Wes Anderson's "The French Dispatch" as well as Guillaume Canet's "Asterix et Obelix, l'empire du milieu".


Alexandre is represented by the illustrator agency LA SLOW.